About Us
The firm's partners and staff members alike aim at customer satisfaction,
thus maximizing their output and efforts in careers that are both
challenging and rewarding.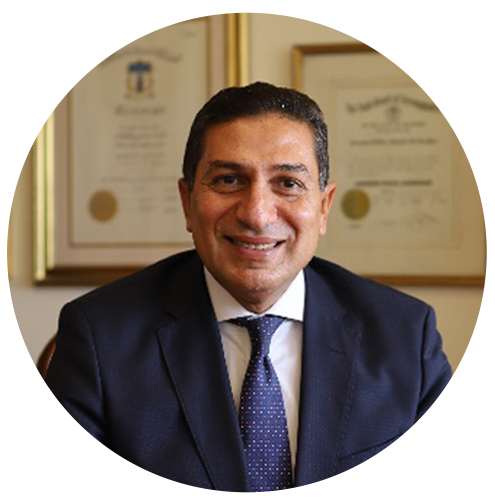 Hossam El Besher, CPA & ESAA
Managing Partner
Message
From Chairman
El Besher, Khalil, Mourad & Partners
To meet the highest standards of professionalism plays a pivotal role in how this firm is structured. The firm functions within a well-established code of conduct focused on living up to the commitment of achieving excellence. The objective of maintaining unstained reputability, through the provision of quality services which are both dependable and reliable is a reflection of the firm's devotion to its motto.
The firm's partners and staff members alike aim at customer satisfaction, thus maximizing their output and efforts in careers that are both challenging and rewarding.
In a competitive market, maintaining our reputation as a firm of professional integrity in the perception of both our clients and the general public is ranked as top priority. We are therefore, selective regarding potential clients, strictly adhering to the standards established by international standards for assessing the background and reputability of prospective clients.
Careful consideration is given to the services demanded by each of our clients and the firm can thereby promise success for any project it embarks on.
Professional integrity and the commitment to achieving perfection are the pillars upon which we have developed and built our corporate image. Our unrelenting efforts to excel in the field of providing business services is what gives potential clients the confidence to entrust us with their work.
KUDOS
The Global Network
By your side
WHO WE ARE?
Kudos is an emerging and ambitious global network of like-minded professionals dedicated to offering clients
assured quality services delivered with exceptional care together with global connectivity.
There are two key factors which sets our network of independent advisory and accounting firms apart:
The long term support we offer you.
Our focus on quality
By your side
When you choose a Kudos firm, we will always be by your side, ready to support you every step of the way. Taking time to build a trusted relationship with you is the key to our Kudos service.
Whether you are starting out in business, building for growth or going global – we will be with you, understanding and working with you, caring for your success, determined to deliver results and to help you achieve your personal and business goals. And then, when you have international needs, with our close connections to the expertise within our Kudos network around the world, we will work together seamlessly to provide the top-quality solutions you need.
Focus on quality
When you engage a Kudos firm, you can be assured of a focus on quality – both in terms of service and in technical capability.
The specialists within the Kudos International leadership team review the quality of the policies and procedures applied by each of its member firms prior to admission and through a coordinated system of ongoing quality control monitoring and inspections.
As a network, our members are able to share resources, knowledge and skills and further support is delivered by a program of training to ensure that every member is updated on changes to international standards and regulations. Our members also have portal access to a wide range of audit, financial reporting and consulting support tools.